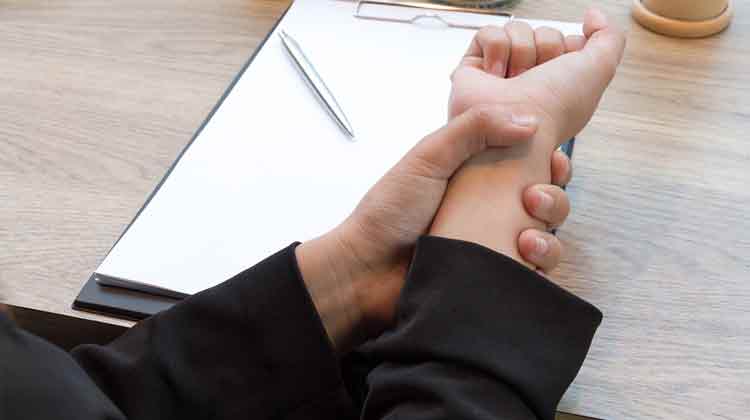 Lauren was a 42 year old woman seeking acupuncture care for relief of her tendinitis, which she has had for two years. She works as a customer service representative within a busy office where she uses her mouse and has to type for eight hours, five days a week.   Her pain levels rose to 8/10 by the end of her work day and lessened on the weekends.   She finds her hands and forearms hurt and bother her while she sleeps, while at work and with general use. Her upper body holds her tension and she experiences pain between her shoulder blades with light pressure.
She has had two treatments per week for two weeks and then four weekly treatments. Traditional Chinese Medical (TCM) modalities used were: acupuncture, Tui Na (Chinese Medical Massage), topical liniment with TDP lamp and Gua Sha each treatment. Her TCM diagnosis was Liver Qi Stagnation with Qi & Blood Deficiency. Pain levels reduced to 3/10 after 6 treatments and 1/10 after 8 treatments. Monthly treatments are maintained to keep circulation flowing to the hands. Acupuncture treatments provided increased abilities for the patient to use her hands, manage her emotions regarding living with chronic pain and increased her work performance.
Clinical Findings
Once per month Lauren sees her chiropractor for an adjustment. She has a family history of breast cancer. She was diagnosed with Myasthenia Gravis and her doctor is treating her for regulation of her thyroid with medications. She takes a multivitamin daily. Lauren drinks five cups of coffee and eight cups of water per day. She walks 2-3 miles daily, when the weather permits.
Timeline
Treatments started with twice per week for two weeks and then once per week for four weeks. Monthly treatments have been scheduled to keep tension down in the upper body and forearms, which prevents the recurrence of the inflammation.
Diagnosis
TCM evaluation was performed by our licensed acupuncturist at Healthy Living Acupuncture using observation assessment of tongue and pulse, verbal communication and physical assessment of her pain sites. Diagnosis was Liver Qi Stagnation with Qi & Blood Deficiency.   Challenges were due to the time needed for rest and the patients inability to take much time off of work.
Therapeutic Focus
Lauren used chiropractic care monthly for prevention and massaged her tense areas.   She used over the counter anti-inflammatory medication before seeing her acupuncturist. Acupuncture treatments were initially more frequent using eight visits within six weeks, with a monthly visit thereafter. Her therapies used include: acupuncture, Tui Na (Chinese Medical Massage), topical pain liniment with TDP lamp and Gua Sha with each treatment.
Follow Up
Lauren was able to take off of work for a week to rest her arms. Relaxation was helpful in her healing process. Monthly follow up visits have kept her pain level very low (1-2/10) or non- existent for the past 4 months. Adverse side effects were increased pain for one day after her second and third acupuncture treatment.
Discussion
Blood stagnates and causes inflammation, resulting in pain. Moving this blood using TCM brings new support into the distressed tissue and disperses the old stagnant blood which increases circulation and decreases inflammation, resulting in less pain. It was important that Lauren received care regularly for six weeks, took a week off of work to allow her muscles to heal, and also maintained a regular exercise routine.